LET YOUR AGENTS BECOME PROFESSIONALS…
Monzuun machine learning & AI solution makes the invisible transparent: what happens in moments of truth? Customer Interaction Analysis combined with customer satisfaction and sales metrics provide your contact center with actionable guidance for improvements.
Monzuun interaction monitoring & guidance helps agents create positive outcomes from every customer interaction. Release the pressure of pushing the ideal. Instead raise standards starting from the strengths of your team members.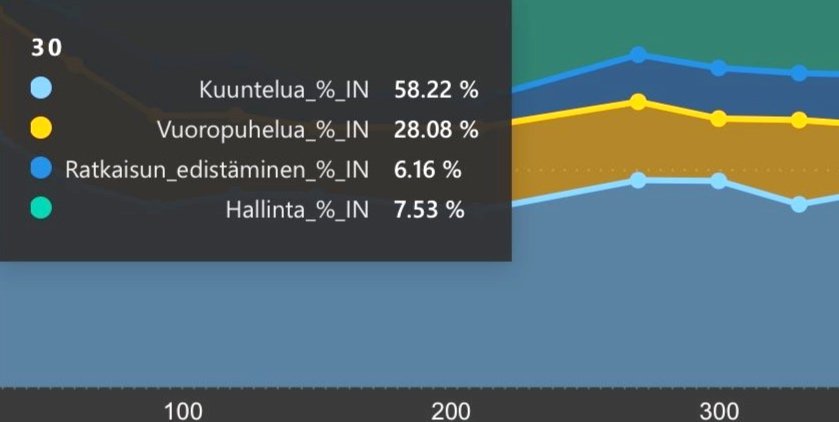 LET YOUR AGENTS BECOME PROFESSIONALS
…EVEN SECRETLY.
The results are generated in moments of truth. A customer dialog is a series of moments of truth. The positive result of a customer conversation can collapse if the agent is not situation aware or sensitive enough. What happens in these moments of truth when the agent gives his/her best?
Understanding and measuring customer interaction unlocks huge potential for improvement. Monzuun makes the dynamics of customer dialog transparent. The analytics deliver guidance on when to listen, when to pitch, how to create customer involvement and satisfaction. The secret sauce of the top performers in the team no longer remains secret.
Monzuun interaction guidance can also be delivered directly to individual team members for them to reach more positive outcomes from customer interaction.
The features of interaction will be discovered regardless of the language spoken – the method is scalable across languages.
RESULTS ARE GENERATED IN MOMENTS OF TRUTH
OUR PRODUCTS
The team manager with coaching abilities monitors activities in moments of truth – not only targets and results. This makes work more rewarding and reduces stress inside the team.
The path to improving customer interaction starts with understanding where the individual team member stands now – in terms of his/her strenghts and weaknesses.
Monzuun is a tool for You and Your team to learn and develop from good to best.
The AI-driven analysis provides You with interaction models for improving results: sales, customer satisfaction and efficiency.
All operations are GDPR compliant.
You can pick the service level that suits You best.
mONZUUN INBOUND
STANDARD
INBOUND
Recognising & Clustering Interaction styles. What kind of conversational patterns exist in your contact center?
What kind of activity is characteristical of these style clusters? See the individual differences in customer listening, asking questions and leading the discussion.
PRO
(+ standard)
What are the outcomes of various interaction styles? What kind of interaction makes customers happy/ involved/inspired?
What needs to change in individual styles to improve customer satisfaction or efficiency?
SECRET SAUzE
(+ PRO)
Individual standards and metrics for conversation guidance for team managers and/or service agents.
Automatic KPI alerts for detecting interaction features that deteriorate Csat or efficiency.
Automatic conversation guidance.
mONZUUN OUTBOUND
STANDARD
OUTBOUND
Recognising and clustering typical sales patterns as they are now. Which are typical styles inside the team to create dialog and seek closing.
If there are phases in leading the dialog, how do they show?
What kind of sales conversation is characteristical for various styles? Is it asking questions, dominant pitching or active dialog?
PRO
(+ standard)
Which interaction styles sell best?
What kind of interaction styles are most likely to close deals?
SECRET SAUCE
(+ PRO)
Individual standards and metrics for sales agents/team managers.
Continuous monitoring to keep on track with best sales practices.
KPI alerts to detect deviations from best practices.
Funded by the European Union
The AI-based conversation analysis service developed by Monzuun Oy makes the interaction and style of phone conversations transparent. 

Monzuun's method is independent of text and language models. With Monzuun's method, you can control the operation of the call center on a practical level. The method is language-independent, therefore it scales to international operations faster than text-based models.The product development project receives funding from the European Regional Development Fund.
CONTACT
Let your agents become professionals
CEO Risto Pyykkönen, Risto.Pyykkonen@monzuun.com OR +358-(0)43 824 4853
Technology Petri Koski, Petri.Koski@monzuun.com OR +358-0(40) 938 4644
Or you can fill the form and we will contact you !